Lady from Heaven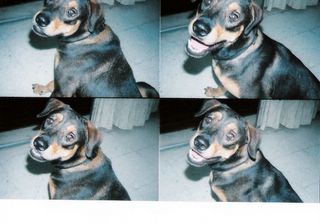 Lady

is also my pet. She is a boxer and Lab mix. This photo was taken using my lomo camera, (the action sampler flash). I love her as much as I love Rover. Look at her, she has this angelic look.... but! looks can be deceiving. She is a real devil, don't be fooled by her looks.
How ironic, Rover has this devilish looks, but in actual an angel,
Lady has this angelic looks, but in actual a devil.
No matter what, I still love them both =)